Forge is Autodesk's cloud development platform that can be used to build innovative, cloud-powered applications. Veteran AutoCAD users remember the third-party add-on applications that used Autodesk program interfaces (APIs) to boost AutoCAD functionality by creating new features. Based on the same concept, Forge is a cloud-based development platform with numerous application program interfaces (APIs) and software development kits (SDKs) that allow for a wide variety of applications to be created, from viewing 3D models to transforming 2D images into 3D models, helping you connect workflows and enabling data to flow easily across projects and industries.
Check out the video to see what kinds of solutions can be build using the Forge platform, and some examples of how companies are using Forge to streamline and innovate how they work.
What Can You Do with Forge?
Improve existing software or build new custom solutions using industry standard web technologies
Accelerate your existing online workflows or create new solutions
Helps streamline the complexities of manufacturing, engineering, and construction industries by connecting players, components, and processes
Centralize your data and connect it to all points of the industry supply chain, empowering you to transform the manufacturing process
Create digital experiences that access any kind of design and engineering data—virtually anywhere, any time
Scale as your customers' needs change or as you innovate
Example:  How Resolve uses Forge in BIM Collaboration
Resolve decided to try Forge APIs to make BIM 360 part of its immersive meeting workflows. The BIM 360 API did exactly what Resolve wanted, which was to seamlessly connect its solution to design models stored and shared in the cloud through BIM 360. As the Resolve team dug deeper, they realized that the BIM 360 API would help them quickly add features they'd planned to develop in-house, including integrated issue management and design option support.
The founders of Resolve had a vision: use virtual reality (VR) technology and BIM (Building Information Modeling) to enable immersive design and construction coordination meetings. The idea was to let project teams "gather" in 3D design models to spot issues and collaborate to enhance designs before—or even during—construction. Where others were using VR for client presentations, Resolve created collaborative 3D environments. Many leading design and construction firms have adopted Resolve technology. They find that they can bring all project stakeholders together to work through issues. Plus, it's easier to identify visual clashes that interference detection tools have difficulty spotting. Users like that Resolve works with sophisticated VR computing systems and standalone viewers, making it easy for any project stakeholder to join a meeting with a minimal equipment investment.
Forge highlights include the following:
Saving as much as 6 months of development time for issue management and design option support
Helping customers launch immersive meetings instantly using the most up-to-date model
Speeding the process of addressing visual clashes by making VR coordination part of BIM 360 workflows
Forge Integration in Archibus
Building managers responsible for asset reliability and maintenance need access to all asset details that were established in BIM during design and construction. They need to be able to pull up that information online, in one place.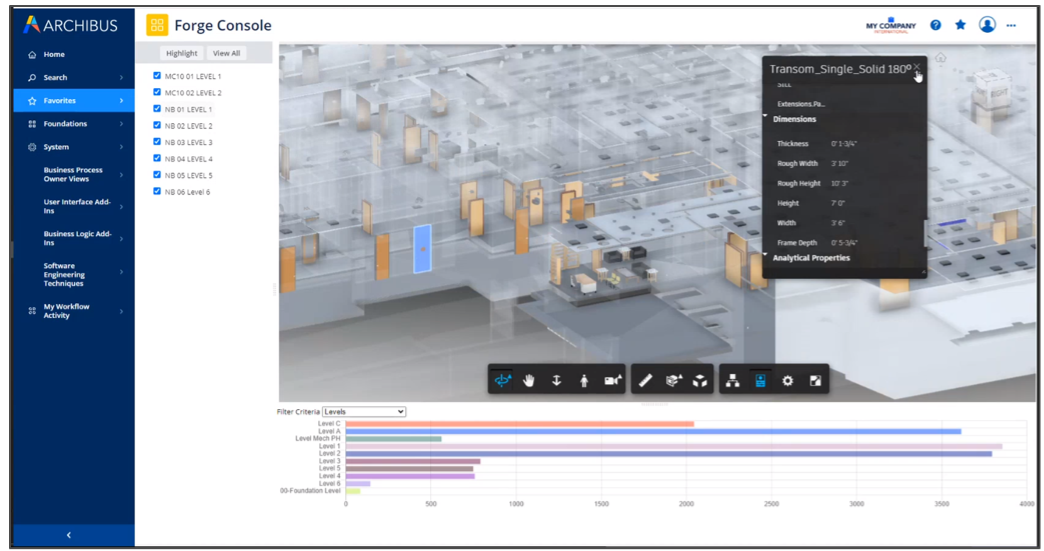 Recent updates with Archibus have been focusing on integration with Autodesk Forge. This will enable you to:
Visualize system connections
Plan maintenance
Build digital twin integrations
For more information contact theteam@robotechcad.com or call us at 201-792-6300
Always contact Robotech first for more knowledgeable and personal service.
Robotech provides Autodesk and Archibus technology with high quality tech support and training services.