Archibus Workplace and Facility Management System
Archibus is a suite of applications for Workplace and Facility Management. All the applications share a single database and a uniform user-interface.  The Archibus Suite integrates Space Management with Maintenance Management, leasing and more. Archibus IWMS with Robotech's implementation and support will make you successful and cost-effective with your workplace management and facility operations. 
Archibus Bringing You Closer to Facility-Wide Insights
We have refreshed our entire platform to make all views and reports more intuitive and visually engaging. Our improved navigation and dashboards help you respond with full context of the task at hand, while providing greater freedom for you to curate your own experience around priorities. We've made it simple for you to add favorites and define shortcuts for key views and reports.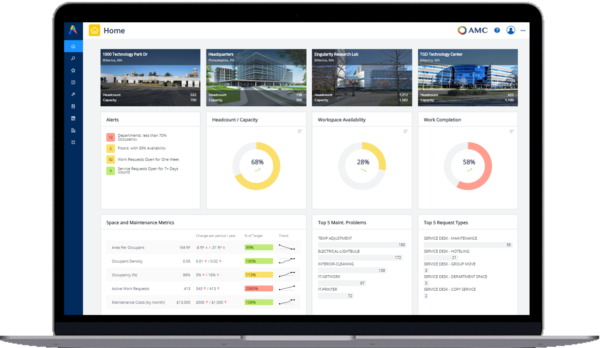 Archibus Simplifying the Space Console
For many Archibus users, the Space Console is central to managing so much facility activity. This version updates this cornerstone view to save you time in finding critical information on locations, allocations, and occupancy. We've simplified the overall presentation, while introducing smart search and smart interactions, so you can more quickly get where you need to be.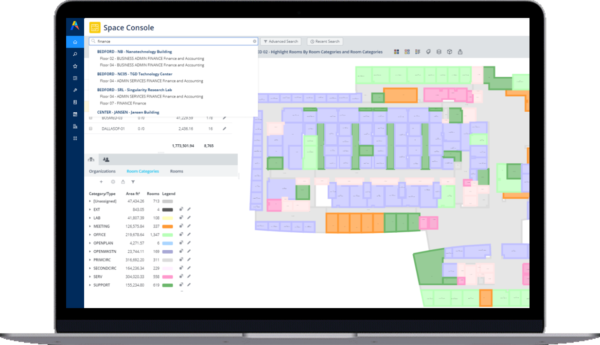 Standardizing Maintenance with Ease-of-Use
Both the Maintenance mobile app and the Maintenance Console have also been enhanced for this release. The Maintenance mobile app's new buttons do a better job of guiding field workers as they log hours, verify and record equipment by barcode, and access relevant work details. The Maintenance console now summarizes estimated hours and actual hours by craftsperson, so supervisors can easily compare totals side-by-side.
In the Archibus Workplace console, the Service Catalog simplifies and refines how you search and analyze requests, letting you quickly sort services by type in an intuitive catalog, while making it easier to pull details and track status. In fact, request types have been better defined down to the point of request, improving standardization of how requests are submitted. We have also improved your ability to visually identify problems on a floorplan to see where requests are coming from.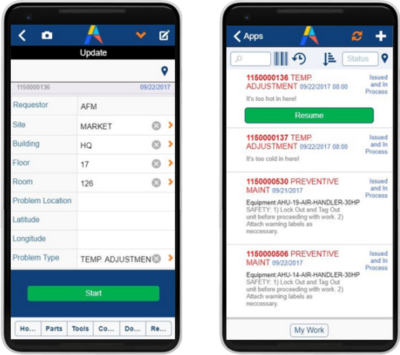 Giving You More Control over Your Workplace Experience
To cap things off, we would be remiss if we didn't talk about improvements to our solutions for enhancing your employee experience. For those of you looking to introduce hot-desking, connect people to their space, and generally streamline how workstations are reserved, our Reservations Calendar console provides a clear overview into the management of room and resource reservations. These improvements make it easier to refine the timing of recurring reservations and resolve any conflicts, so that nothing gets in the way of your daily flow.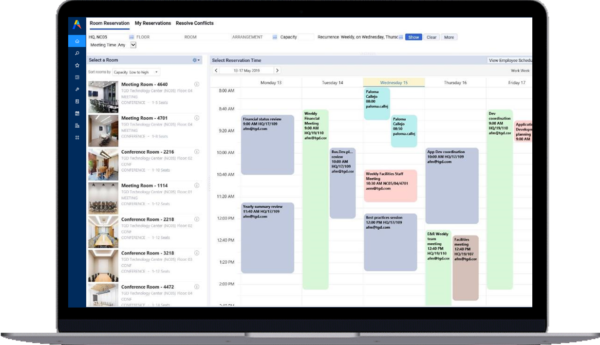 Get the Bigger Picture
Real estate and facilities are the second largest expense for most organizations, and they impact the experience of everyone within them. Archibus software provides a complete suite of solutions for optimizing your:
Space
Maintenance
Asset Management
Leases
Capital Projects
Workplace Services
Reduce Facility Costs
Go from reactive to proactive to standardize all of your operations on a system that informs planning and streamlines response time. Invest your budgets to avoid waste from costly neglect, and prioritize the resources you value most.
Optimize Your Space
Reduce your real estate footprint by consolidating your space around the needs of the people within it. Ensure an accurate view into how space is occupied, target inefficiencies, and execute large move projects.
Elevate Your Experience
Plan a workplace that inspires employees, while connecting people to their environments through mobile technology. Enhance service satisfaction with transparency into the needs of your occupants.