Sustainability &
Risk Management
Ensure that your organization is safe for people and good for the planet.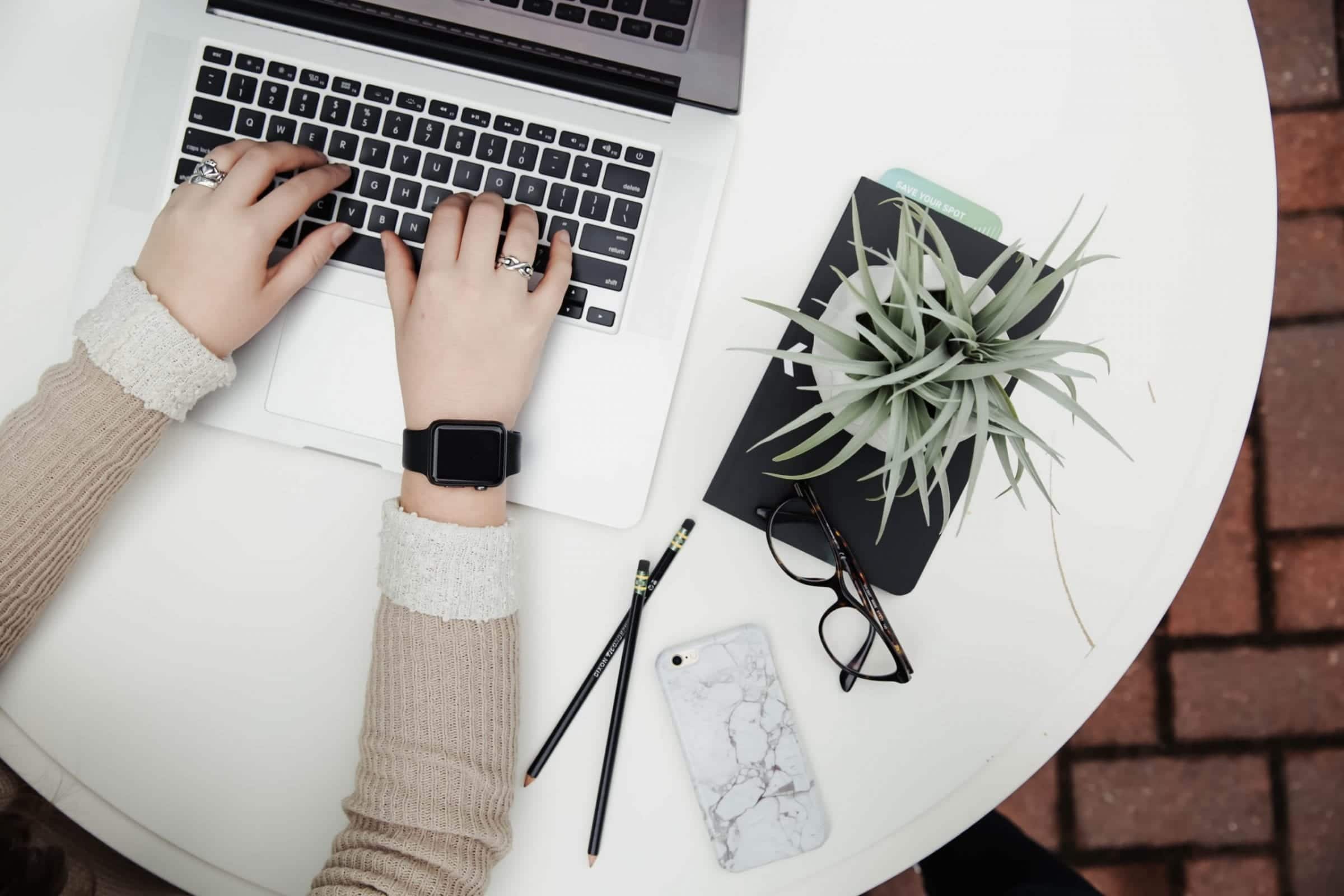 Benefits
Ensure safety and wellness
Gain a comprehensive understanding of risks
Promote sustainability
Reduce your ecological footprint
Understand the impact your organization has on the environment
Track key processes involved, from energy to waste
An increasing number of organizations are recognizing the strategic value of reducing their carbon footprint to protect the environment and enhance their bottom line.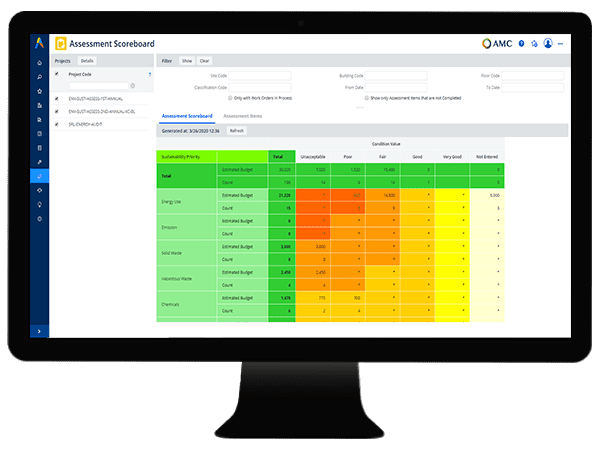 Web-based Archibus Sustainability Assessment helps make the concept of environmental sustainability a reality by tracking, ranking, and documenting details on the condition and use of physical assets so remedial action can be taken.
Unlike spreadsheets and other manual processes, the application provides a truly objective and systematic method of identifying and prioritizing facility replacements, upgrades, and renovations, based on environmental sustainability criteria while leveraging other Archibus facilities data from its central repository.
Benefits
Establish proactive sustainability processes that can improve operational efficiencies, enhance stakeholder work environments, and boost asset value
Identify which assets should be repaired, renovated or replaced to achieve environmental efficiency goals or support an existing LEED™ or BREEAM® rating program
Improve capital budgeting and planning capabilities by tracking costs and budgets associated with environmental deficiencies
Increase efficiency of sustainability efforts by integrating assessment with work order management and by using a unified data repository
With increasing utility costs, mandates to reduce carbon emissions, and sustainability efforts gaining more visibility, effective energy management has become even more important for organizations.
Archibus Energy Management provides the means to easily aggregate, evaluate, and optimize energy and utility spending decisions to reduce unnecessary consumption and costs.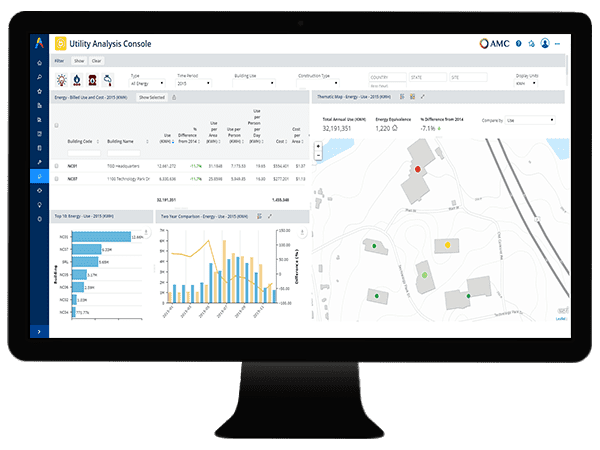 Unlike spreadsheets or finance software alone, Energy helps users correlate and manage extensive cost data with real-time facility and infrastructure portfolio information to track energy expenditures against a business plan or objective benchmarks.
Benefits
Lower annual energy costs, typically by 5% (or approximately $0.10 – 0.20 USD per square foot of space/year) and reduces carbon footprint
Provide audit capabilities to easily access, aggregate, and evaluate consumption patterns as the basis to renegotiate rates and consolidate energy providers
Reduce business risk and exposure to changes in energy costs or carbon emissions regulation through "what-if" analyses
Improve decision-making by aligning energy spending to organizational priorities
Managers are increasingly being tasked with achieving carbon footprint goals and managing environmental sustainability certification scores for individual buildings or across their entire portfolio.
Archibus Green Building aids those managers by delivering a highly versatile and robust Web-based platform to provide the information framework for reducing greenhouse gas emissions, and managing the environmental sustainability certification and recertification process.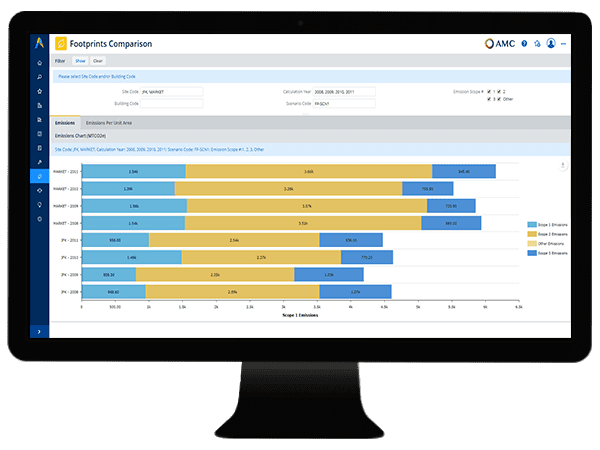 The application helps guide users through the processes of defining environmental criteria and protocols, collecting portfolio data, and evaluating results to help make informed and cost-effective decisions to achieve sustainability goals.
Benefits
Implement an information framework to help reduce overall carbon footprint
Facilitate compliance with internal or external reporting requirements
Streamline the computation and comparison of greenhouse gas emissions for all buildings in a portfolio and tracks changes over time
Track progress, evaluate payback, and identify best practices to simplify sustainability certification and requalification initiatives
Managing waste streams, particularly hazardous waste, is often fraught with risk and possible negative outcomes, if handled poorly.
Organizations need not only to cope with the often burdensome regulatory paperwork, but also to avoid the risk of errors, omissions, and accidents that can lead to injuries, penalties and/or potential litigation.
Web-based Archibus Waste provides a streamlined and integrated approach to tracking, managing, and reducing both hazardous and non-hazardous waste.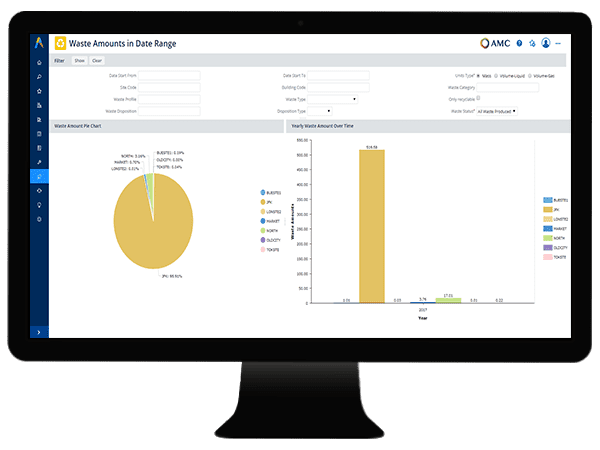 It helps smoothly process the information flow, starting from the point of generation, through accumulation, storage, shipment or emission, and final disposition.
And it provides defensible information to assess the effectiveness of waste reduction and recycling programs that, in turn, help reduce carbon footprint and increase LEED™ or other sustainability scores.
Benefits
Simplify the process for tracking and managing hazardous waste streams to sustain a safe working environment
Decrease the risk of fines or litigation surrounding hazardous waste storage and disposal procedures
Increase the visibility and improves accountability for waste reduction or recycling initiatives to help reduce carbon footprint and improve LEED or other sustainability scores
Reduce the cost and effort of satisfying waste audit and reporting requirements
Every year, natural and man-made disasters cause tremendous dislocation and financial loss to organizations.
Archibus Emergency Preparedness allows you to plan for potentially disastrous situations and effectively respond and quickly recover in the event of an actual disaster.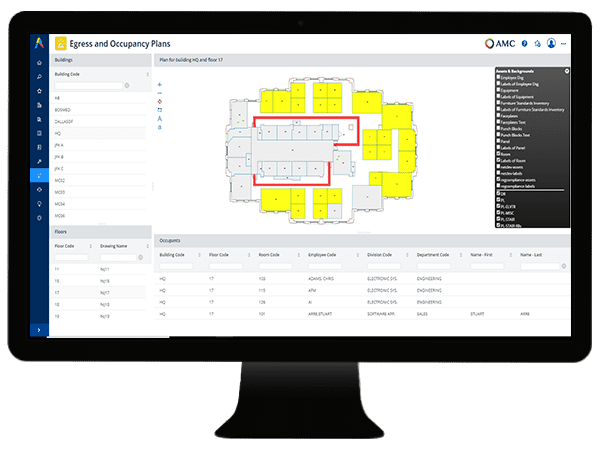 It helps provide rapid access to critical facility, infrastructure and occupant information to ensure life safety procedures are followed, property is protected, and disruption to normal operations is minimized.
Archibus Emergency Preparedness can serve as your primary tool for maintaining and providing accurate information to those who need it most in the event of a disaster.
Benefits
Take a proactive emergency operations management posture that can potentially save lives, protect property, and reduce insurance costs
Quickly access accurate information to make critical life-safety decisions during a disaster
Organize information to implement disaster recovery plans and quickly resume normal operations
Expedite insurance claims and negotiate more favorable coverage terms
Successful facility professionals need to actively monitor the potential of indoor environmental hazards, such as asbestos and radon to lead paint and mold.
Archibus Hazard Abatement helps these managers protect the health of building occupants, minimize organizational liability, and avoid costly fines or possible litigation.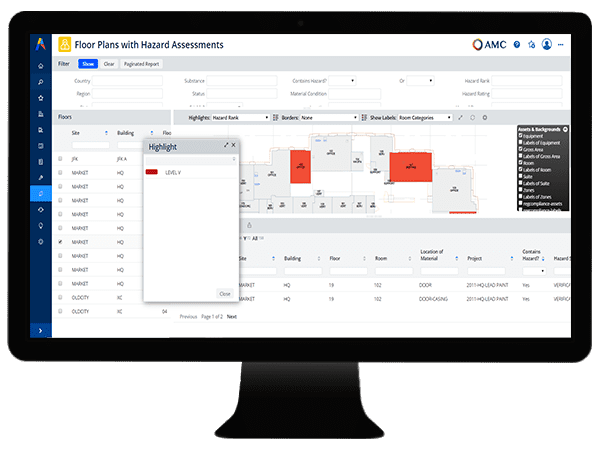 Unlike spreadsheets or other non-integrated tools, Web-based Archibus Hazard Abatement provides a flexible and highly systematic process to help ensure all hazardous materials are quickly and accurately located, tracked, and abated using searches that connect directly to graphical views of space and equipment inventories.
In addition, Hazard Abatement's ability to easily share and integrate hazardous materials data with other systems and processes greatly decreases the likelihood of errors/omissions, averts unnecessary shutdowns, and reduces the overall cost of regulatory compliance.
Benefits
Facilitate a safe working environment for building occupants by reducing potential exposure to hazardous materials
Minimize the potential for expensive litigation and monetary damages resulting from regulatory actions and/or occupational illnesses
Avert costly operating shutdowns, loss of facility use, penalties, or fines resulting from hazardous material violations
Reduce operational costs for regulatory compliance by streamlining the process of identifying, locating, sampling, documenting, and abating hazardous materials
Managing a comprehensive, defensible health and safety program to protect both individuals from hazards and the overall organization from liability can be overwhelming.
The Archibus Health & Safety (H&S) application enables managers to quickly associate incidents with locations, equipment, and personnel and easily link employee training records and/or medical monitoring to these same incidents.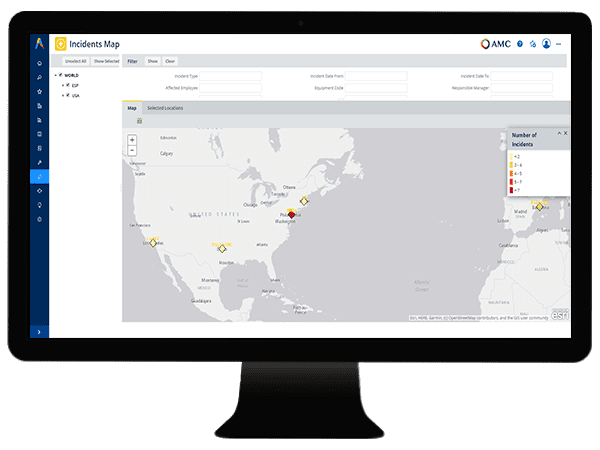 As part of a comprehensive Health & Safety management program, this application is a critical tool to help document evidence of compliance for internal standards or external regulatory requirements.
This documentation can greatly minimize both compliance costs, as well as monetary fines to the organization.
Benefits
Implement a proactive process to identify, evaluate, and correct health and safety risks in the workplace
Reduce medical claims, disability compensation, and loss of productivity because of workplace-related injury or illness
Efficiently track and follow-up on health and safety incidents to minimize risk and liability to the organization
Reduce the overall cost of administering a comprehensive, defensible health and safety program
Organizations have a responsibility to safely handle toxic products, verify compliance with various regulations, and inform first responders where those hazardous materials are stored and what they may encounter during an emergency.
Yet maintaining this information in binders or file drawers can be expensive to manage, difficult to update, and a challenge to access – especially during a crisis.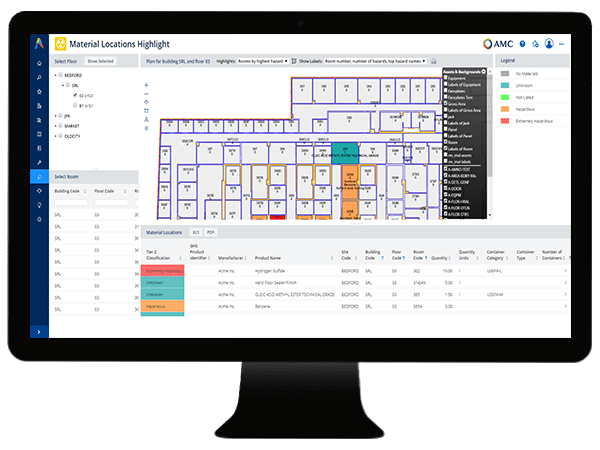 The Web-based Archibus Safety Data Sheets (SDS) application provides instant updates and access to SDS information from anywhere, stores lists of chemical products used in workplaces, and catalogs their SDS.
It also integrates materials inventories, space and occupancy data, equipment inventories, and organizational information with site- and floor-plan graphics, providing the most complete information to execute a plan of action to avert a crisis.
Benefits
Minimize risk of serious injury to building occupants and first responders in the event of an accident
Reduce the administrative cost and effort in maintaining an up-to-date Safety Data Sheets (SDS) library
Satisfy chemical safety and inventory documentation reporting obligations efficiently
Facility the maintenance and auditing of detailed hazard inventory records by location and custodian
Enable first responders to quickly and reliably retrieve critical chemical safety information during an emergency