New Archibus software release enhances wayfinding, space management, and maintenance scheduling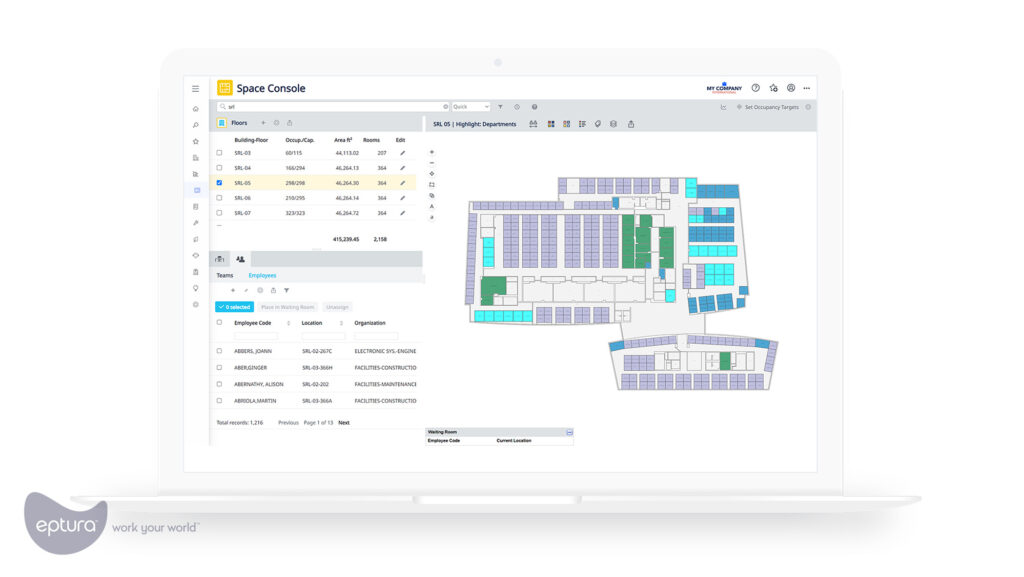 Eptura, the global worktech leader, recently announced updates to its Integrated Workplace Management System, Archibus, offering business users enhanced wayfinding capabilities, improved insights for space planning and asset management, and a streamlined maintenance technician experience. These updates expand on the prior Archibus release which strengthened integrations with Autodesk and added the ability to leverage occupancy data from VergeSense sensors.
With the introduction of flexible work policies, today's workplaces are bustling with various combinations of employees, maintenance personnel, and building guests flowing in and out of office spaces at assorted times. As revealed in Eptura's Q1 2023 Workplace Index Report earlier this year, visitor check-ins are up 35% year-over-year with room booking check-in rates rising 76%.
This influx of traffic, paired with evolving floorplans to accommodate new ways of working, makes wayfinding more critical, especially for visitors unfamiliar with the layout of a given workspace or multi-building campus. Now offering an integration with Mapsted's indoor navigation, Archibus enables users to easily find their way around the office, ensuring guests can quickly locate bookings and the people they are visiting.
The demands on building operators have also increased as they look to determine the right mix of spaces to support flexible work while controlling costs. Enhancements to the Archibus platform offer new ways to visualize space utilization, allowing teams to better understand current needs and inform future real estate decisions.
For maintenance teams, office attendance correlates strongly with work orders and equipment inspection volumes. By empowering technicians to self-assign work orders and collect vital maintenance information, updates to Archibus provide a more comprehensive view of pending requests and schedule availability to expedite task completion. "Technicians can input all the necessary information on their mobile devices, instead of waiting to get back to their desktops," said Yuki Sawamoto, senior managing director of iSquared, an Eptura partner.
Updates to Archibus
As part of this series of updates, Archibus users can now:
• Enable users to find their way around offices or campuses by leveraging Mapsted's indoor navigation from Archibus.
• Visualize space utilization trends to see averages and peaks.
• See which assets have the most or least remaining years of service by filtering on remaining service life.
• Access and display IFC models, DWG files, and PDF files to use architectural, building, and construction industry data within the Archibus BIM Viewer.
• Take actions on assets in fewer clicks, such as reporting issues, updating asset descriptions, and editing related data directly within BIM Viewer.
• Allow technicians to self-assign work orders directly from the OnSite mobile app.
• Track when technicians are approaching their labor hours limit and send alerts from within OnSite.
"For 40 years, building owners and operators worldwide — from government agencies to healthcare providers — have relied on Archibus to manage their real estate and asset portfolios. With our latest updates to Archibus, we're putting more control directly in the hands of facility managers, building guests, and repair teams," said Paul Phillips, CTO of Eptura. "These users have growing responsibilities amid the resurgence we're seeing across workspaces, and these enhancements enable them to tackle those responsibilities more efficiently."
To learn more about how businesses are leveraging Archibus by Eptura to optimize their workplaces and assets, visit our website.