For years, architects, engineers, and contractors have talked about converging manufacturing and construction processes. AECOM is working to make it happen.
Creating the Conditions for Convergence
While working on a recent client project, AECOM architects and engineers realized that designing a simple staircase required them to make at least 150 distinct decisions. But, once those decisions have been mapped out, many of them can be automated — making the design process more focused and effective, and creating an opportunity to bring manufacturing concepts to bear on construction projects.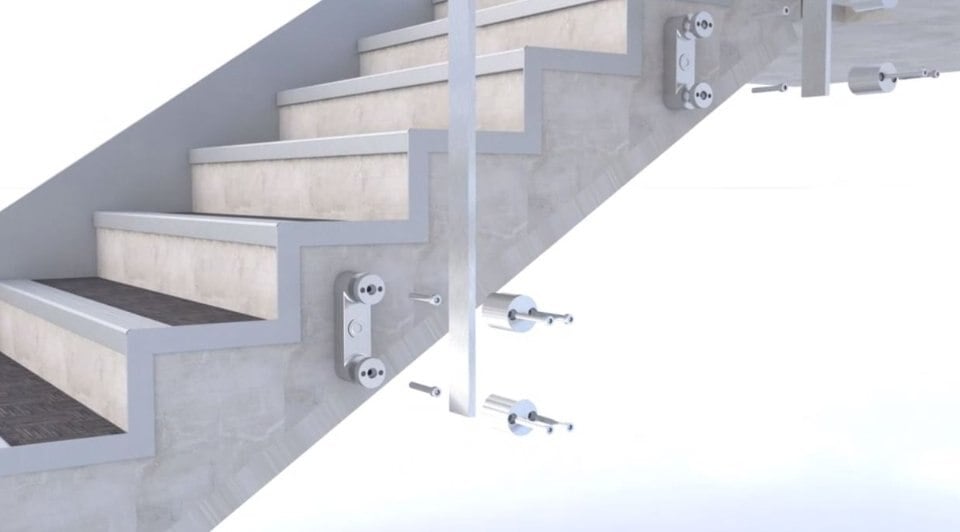 Stair detail: a simple staircase can involve hundreds of repetitive design decisions. AECOM is creating staircases as fabrication-ready building components held in a digital library to reduce these decisions to just one.
"That idea tumbled out from a project for a client, but it was more about us thinking about the whole design management process and understanding the sheer volume of decisions that we make on every individual project," says Dale Sinclair, director of technical practice for AECOM. "We became interested in how we could start to take these different manufactured elements and integrate them together more effectively from a manufacturing perspective."
A staircase, of course, is a relatively small component of a major construction project, but it illustrates the larger possibilities around converging manufacturing and construction. In addition to saving time and money, Sinclair says, such a convergence would help architects grapple with increasing building complexity – allowing them to focus on innovation and design decisions, rather than the minutia of systems integration.
While the convergence of manufacturing and construction processes has long been a hot topic in the AEC industry, movement has been slow. AECOM design leaders see the following five factors as being crucial to pushing convergence forward:
Factor 1: Early Action
To successfully incorporate manufacturing processes into construction projects, Sinclair says, design teams must begin with a converged approach in mind. That includes designing to a level-of-detail that will allow suppliers and construction teams to begin sourcing manufactured components early on.
"The current level of detail is not typically as high as we would want," Sinclair says. "One of the challenges for us is really going right down to the last screw of some of the components in a building. Take a door, for example: If a door is fitted into a partition, it has different challenges than if it's fitted into the floor. So understanding how all of these construction challenges have been dealt with earlier allow us to solve them once, and then be confident that we won't have to go back and revisit all these objects."
"I think the key is really trying to give architects the knowledge that they need to try to work with these new manufacturing technologies," Sinclair adds. "You really need to think about them quite early on, because otherwise you're hard-baking traditional construction into a building."
Factor 2: Supply Chain Development
"The challenge for us is that we have the ideas, but we don't have the manufacturers who can produce our ideas," Sinclair says. He adds that AECOM is currently working on a major healthcare and research project in London and is planning to work with suppliers to find ways to manufacture elements such as ceilings off-site, rather than erecting them via traditional construction methods. "Really, we're taking each element of the building and looking at opportunities to increase manufacturing. For some of the projects that we're designing, no manufacturer exists, so the biggest challenge for us is how to create the supply chain for the products of the future."
Factor 3: Prototyping
"What we've realized is that construction is really a different beast from manufacturing," says Matthew Scammels, associate director of architecture for AECOM. "We're doing many projects that have more of a bespoke nature, and it's much more difficult to apply modular principles to those."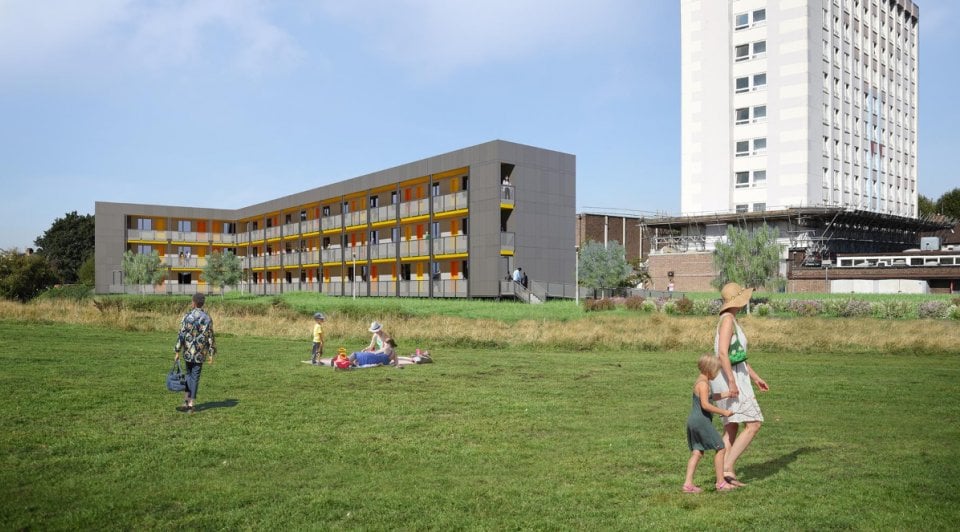 YMCA Thames Gateway, Romford, Essex. 39 one-bedroom flats, designed to support residents as they move on to independent living. Designed, manufactured and assembled off-site by AECOM and Rogers Stirk Harbour+Partners.
One route to solving this is through testing and evolving design through prototyping. This helps AEC firms to learn lessons about what does and doesn't work, and also means digital libraries of components and elements can be built and determined and linked to specific building product manufacturers. "Having a digital library means we're not reinventing the wheel every time we do a concept design," Scammels notes.
Taking learning on this, a prototype for a modular two-bedroom apartment, developed by AECOM and RSHP, was manufactured using Revit sufficiently detailed for use in the fabrication process. "We found that not only did we have a digital library of manufacturing components, but we had pre-defined layouts for the apartments making the design process far more efficient and effective," Scammels says.
Factor 4: Innovation Through Information
Detailed BIM models, Scammels says, are key to unlocking the innovation necessary to develop new processes. "It's about being able to create options and variations that allow us to pull in multiple supplier information or approaches, and still give us choice," he says. "There's a lot more onus on managing a digital library."
Rather than commoditizing architectural design, Sinclair expects the convergence of manufacturing and construction to make architects more efficient and effective. "Commercial clients want buildings that are different and distinct," he says. "For us it's not about commoditization of design. It's about, how do we design more effectively using digital libraries. It's about using those libraries to create unique architecture."
Sinclair also stresses the importance of adopting software tools that are capable of bringing together manufacturing and traditional building design processes. "In order to embrace this new way of working, where we're adopting more manufacturing processes in design, we need access to tools like Revit and Inventor that support interoperable workflows," he says.
Factor 5: A New Mindset
"People have been constructing buildings for thousands of years, and I think the process of doing that is hardwired into most people," Sinclair says. "Trying to get them to change is quite difficult."
AECOM, with 90,000 employees in more than 150 countries, is using its influence as the world's largest AEC firm to try to get clients to see the benefits of change. For instance, the company worked with a client whose design called for equipment that is manufactured as a kit of millions of small parts, but the client still planned to have those systems constructed on-site. AECOM intervened, explaining how much time could be saved by first manufacturing larger components and then installing them at the project site.
"We're realizing now that it's really about the client's awareness and their uptake of these ideas," says Scammels. "As much as we can try to be clever, if the client doesn't understand what we're trying to do, we're going to go nowhere."
"To cross this chasm with clients, you need case studies. Right now, I'm quite happy to work with different clients in different sectors if it can even just move forward one piece of the process," says Sinclair. "I suppose what we're trying to do with some clients is to just demonstrate the art of the possible in terms of manufacturing," Sinclair says.