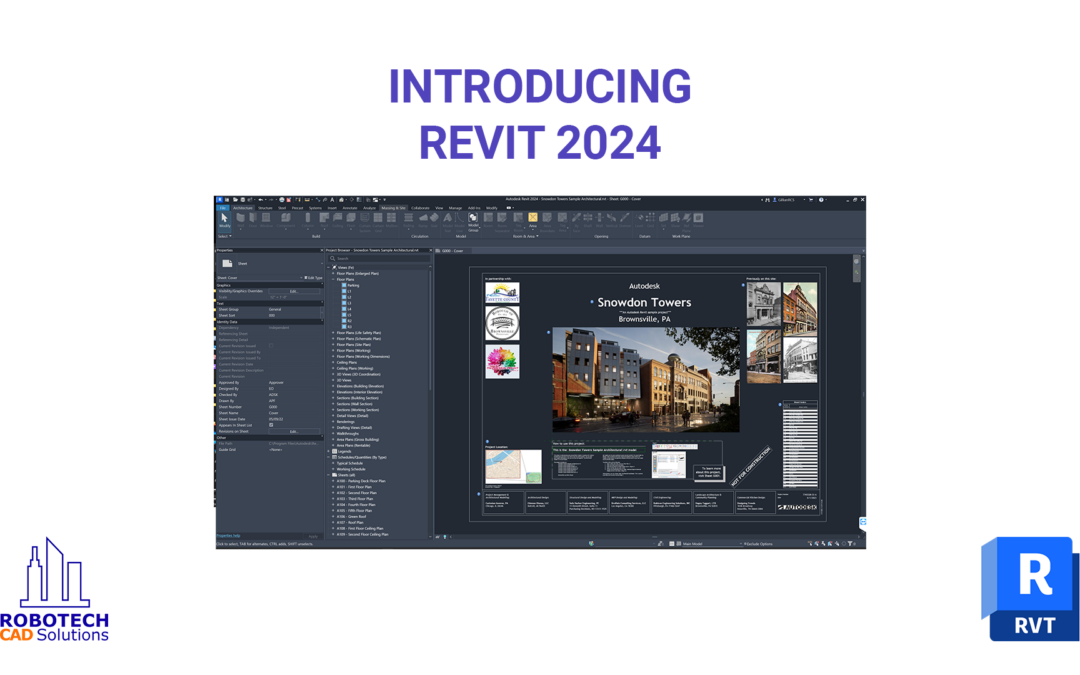 Revit 2024 has just been released, and with it are a lot of exciting new additions and improvements to existing features. We've highlighted several of the latest features you'll come across.
To see all this in video format, click here: [link coming soon!]
Design productivity
My Insights in Revit Home
Dark Theme
New Imperial and Metric Templates
New sample model
Modernized Project Browser with new Search
Height parameter in scope box
Color Books browser
Textures visual style
Revit to Twinmotion enhancements
Site design – Icon reorg for Massing and Site
Site design – Create Toposolid
Site design – Generate Toposolid from Toposurface
Site design – Linked Topography enhancements
Site design – Contour Display settings per Types
Site design – Cut geometry enhancement & Mass Cut excavations
Site design – Solid Sub-divisions 
Site design – Cut & Split Toposolids
Site design – Graded Regions
Site design – Show shape-edit control points
Site design – Floor-based families and Slab Edges on Toposolids
Site design – Exposed Toposolid API
New path alignment options for free form rebar
Stirrup orientation for aligned free form rebar
MEP fabrication ductwork stiffener
Pipe Wall thickness as a built-in parameter
Elevation parameters in visibility filters
Hide insulation with hosting duct and pipe
Parameters sorting in type/instance properties
Export 'Family type' parameter
Simulation & analysis
Sun Settings in the ribbon
Run Solar Studies with seconds intervals
Sun Paths in perspective views
Generate energy model by view
Enhanced structural analytical loads
Structural area loads with color coding
Custom physical-analytical association
Detailed results for connection automation rules
Non-coincident loads for electrical analytical components
Flow and pressure calculations added to MEP fabrication network
Network based calculation for design ductwork
Demand loads for electrical analytical components
Flow and pressure drop calculations
Cloud data & interoperability
Link coordination models from Autodesk Docs
Manage links dialog for coordination models
Access properties of coordination model objects
Point snaps for coordination model objects
Collaboration cache relocation for cloud models
Link and Import PDF in Revit LT and Design Automation API
Revit to Robot Link enhancements
Design optimization
Dynamo for Revit 2.17 upgrade
Dynamo Player & Generative Design updates
Dynamo Player & Generative Design samples
Improved steel connections SDK documentation
Revit additional resizable dialogs
Revit Macro security improvements
API enhancements for developers
Documentation efficiency
Place multiple views and schedules on a sheet
Move aligned to sheet enhancements
Open sheet directly from drawing area
Schedule revision clouds
Align patterns on shaped-edited surfaces
Bar bending details on reinforcement drawings
Bar bending details in rebar schedules
2D element draw order in 3D families
Resize all schedule rows
Enable removal of unit symbol for fraction inches
My Insights in Revit Home
New My Insights tab in Revit home page
Get personalized insights based on how you work and the work you do
Learn valuable information (new features, commands and workflows)
Display through cards

React to the cards
Learn more through the link in cards
Fresh from the Factory, Revit 2024 is rolling out globally! In this release, Autodesk has combined eagerly anticipated additions, like Site Tools for landscape designers, with highly requested enhancements from the community, like Dark Theme and a more modern user interface.
Here are three of the highlights from the new version:
Introducing Site Tools for Revit & Revit LT.
This new toolset supports the design and documentation of richly detailed landscapes. You can use Site Tools to:
Collect and rationalize existing conditions data from CAD Imports, CSV point files, and more.
Model your design intent freely and easily, with versatile site and massing tools for modeling topography.
Populate schedules, sheets, and views and calculate material quantities. Cut, fill, join, and run phasing scenarios. Use the design-to-documentation engine of Revit to save time and improve design quality when modeling landscape and site conditions.
Save time in concrete detailing.
Structural engineers and rebar detailers have new capabilities for creating, scheduling, and documenting rebar. Use the new bar bending details to:
Create reinforcement drawings and schedules with detailed fabrication instructions. With this new tool in Revit, when the model changes, the details adapt along with it.
Add and customize rebar bending details so that your views and sheets respect your typical practice.
Reduce errors and omissions in your document sets.
Evolve work together.
Link Coordination Model from Autodesk Docs into Revit makes it easier for project teams to sync and coordinate design deliverables. Keep project files light and teams on the same page.
Link models and views from any of the 60+ formats supported by Docs and the Autodesk Construction Cloud directly into Revit.
Underlay the coordination model as visual reference when designing in Revit.
Reduce the need for interpretation when coordinating up-to-date design deliverables with partners and project teams.